The Carbon Badger- HPVC East 2019
In April 2019 the Carbon Badger earned 6th place overall out of 50 teams at the ASME E-Fest North Human Powered Vehicle Competition at Michigan State University. The frame had a tadpole trike geometry and was fabricated from composite materials.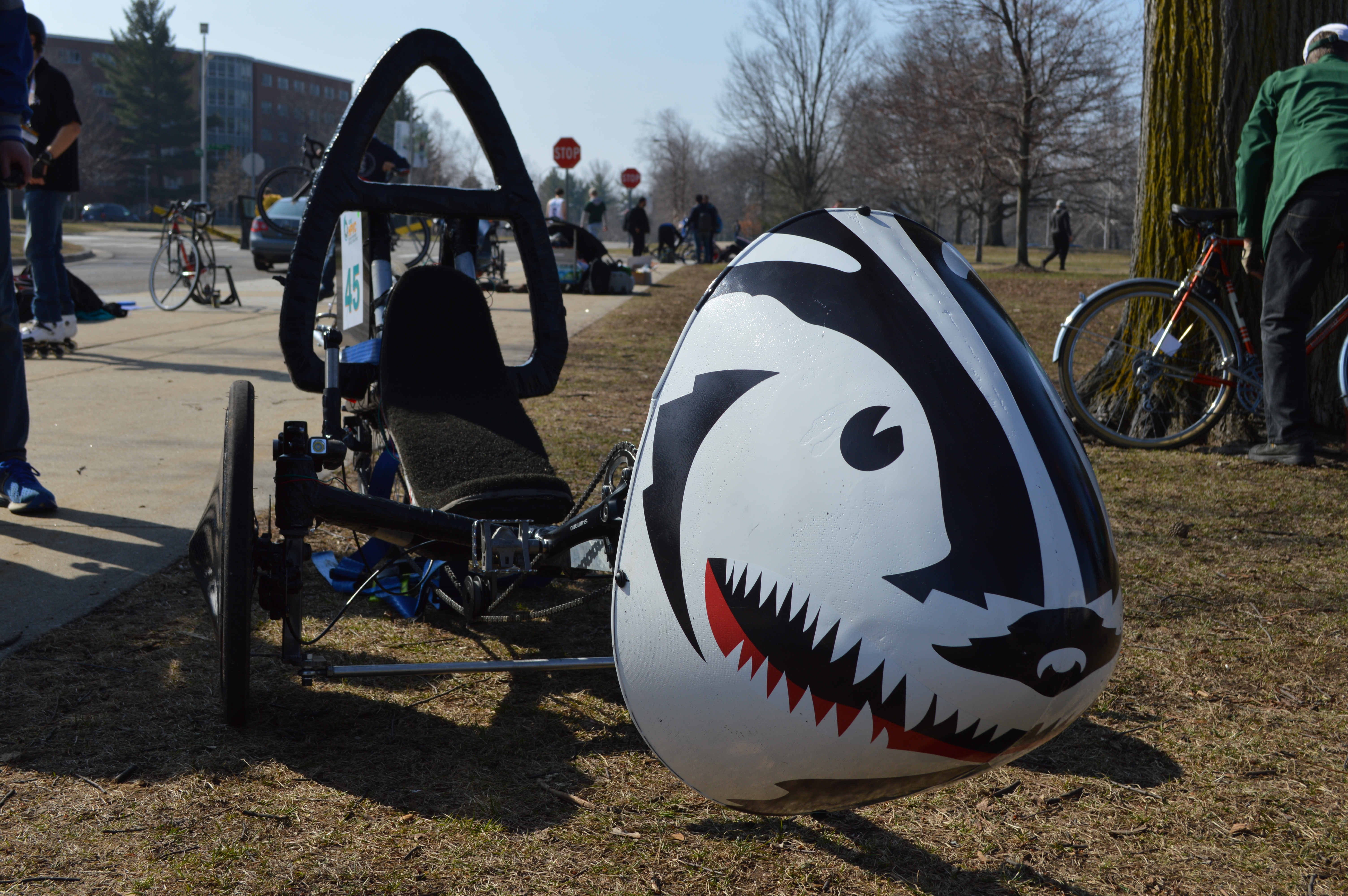 Carbon Badger features:
Carbon fiber nose cone
Aluminum frame
3D-printed PLA joints wrapped in carbon fiber
Carbon fiber RPS
Adjustable pinned bottom bracket
Retractable trailer hitch
A rack and pinion steering system was also designed and prototyped, but does not appear on the final bike.
Other results: Design – 11th, Women's Speed – 9th, Men's Speed – 13th, Endurance – 8th
The Badger Bus- HPVC East 2018
In April 2018 the Badger Bus earned 9th place overall at the ASME East Human Powered Vehicle Competition at Penn State University. The Badger Bus featured a half carbon fiber fairing for improved aerodynamics.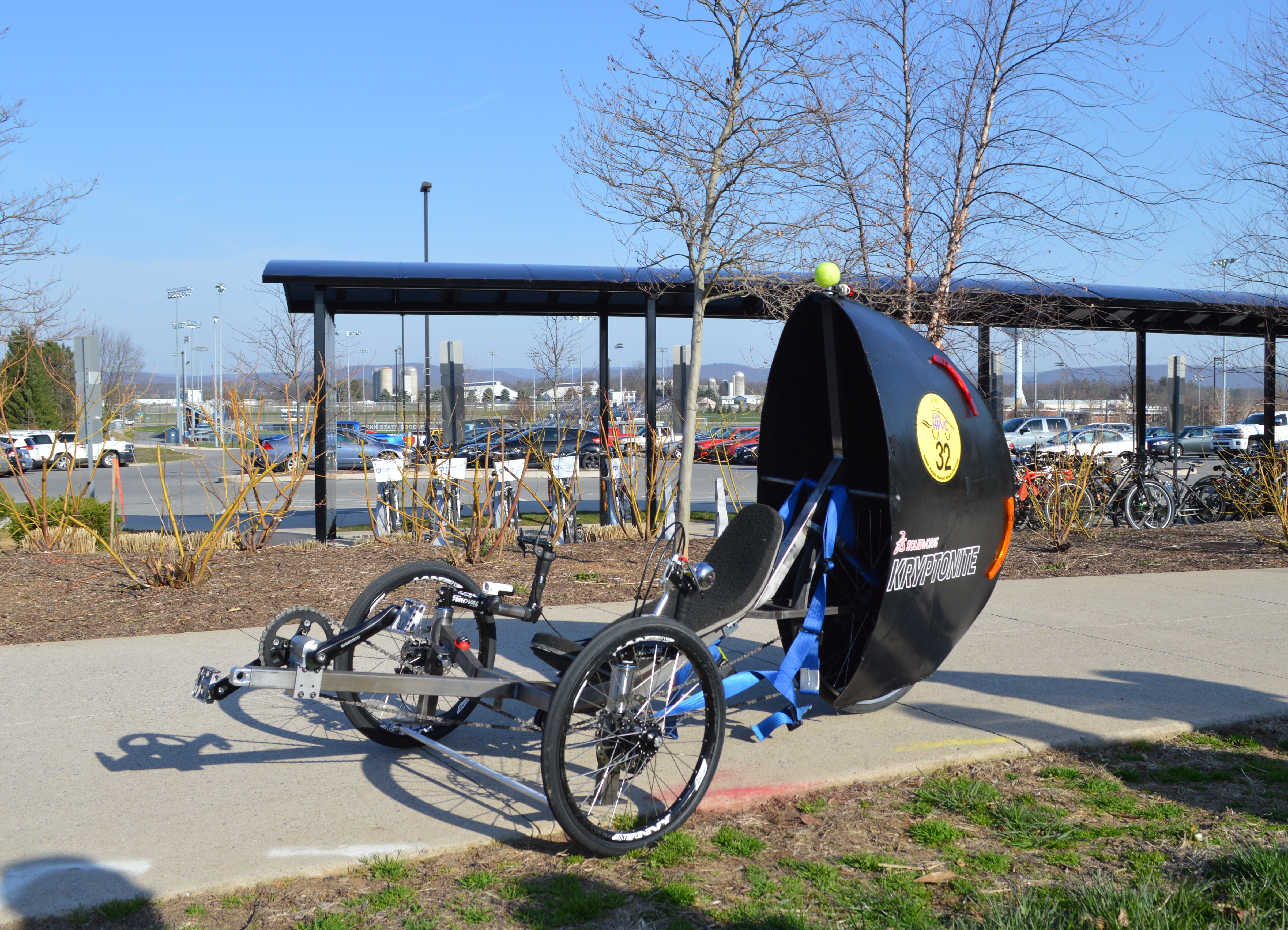 Some features include:
Weighed 60 pounds
Chromoly steel frame
Internally geared rear hub
Adjustable, dependable drive train
While the innovation team's system did not make it onto the final vehicle, their efforts earned the Badger Bus 5th place in innovation. This year's innovated idea was focused on changing riders easily and quickly. An automatically adjustable seat was designed which could be programmed to adjust to any rider with a personalized RFID. Additionally, a system was developed which could open the hatch for a vehicle designed with a full fairing.
Colby Jacked- HPVC East 2017
In April 2017 the Colby Jacked earned 4th place overall at the ASME East Human Powered Vehicle Competition at Tennessee Tech University. The Colby Jacked featured a full carbon fiber fairing, a vacuum formed windshield, an airbag, and a carbon fiber/balsa wood roll cage.

Weighed 65 pounds

Ultrasonic blind spot detectors
Carbon and steel frame
Carbon fiber wheel covers
Adjustable, two step drive train
The Aurora – HPVC East 2016
This past spring the Aurora earned 6th place at the ASME East Human Powered Vehicle Competition. The Aurora featured a thin walled steel "tadpole" style frame, an adjustable, two-step drivetrain, and a recycled carbon fiber fairing and roll cage.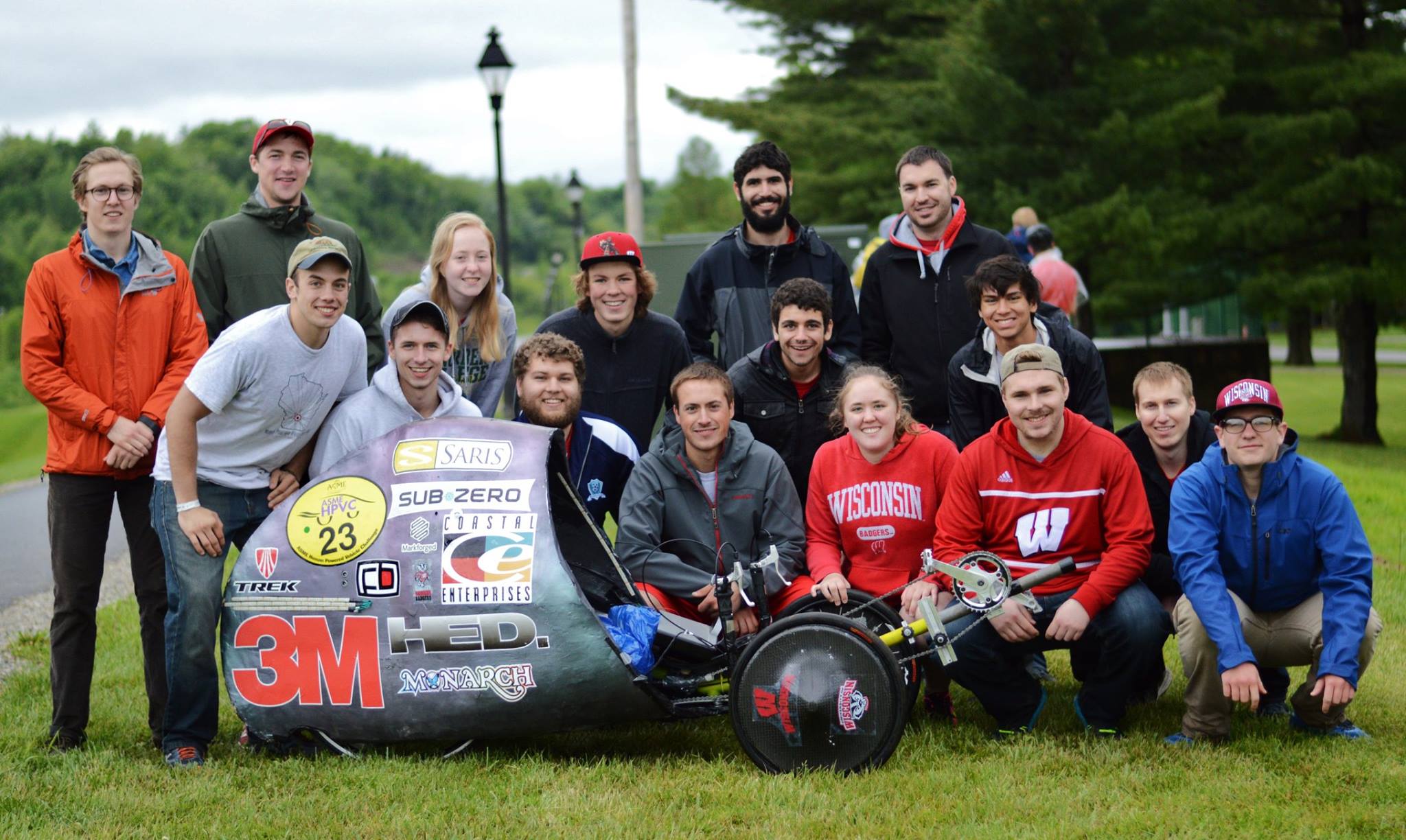 Carbon and steel frame/steering system

Recycled carbon fiber fairing-reduced LCA material energy consumption by 72% from previous year
Carbon fiber wheel covers
Adjustable, two-step drive train
3D printed carbon fiber/ABS crank arms
Ultrasonic blind spot detectors
Del – HPVC East 2015
In May of 2015 we took the competition by storm with our newest design, 'Del,' which was a name inspired by the design of our frame. This year we chose to go through with a leaning delta trike design.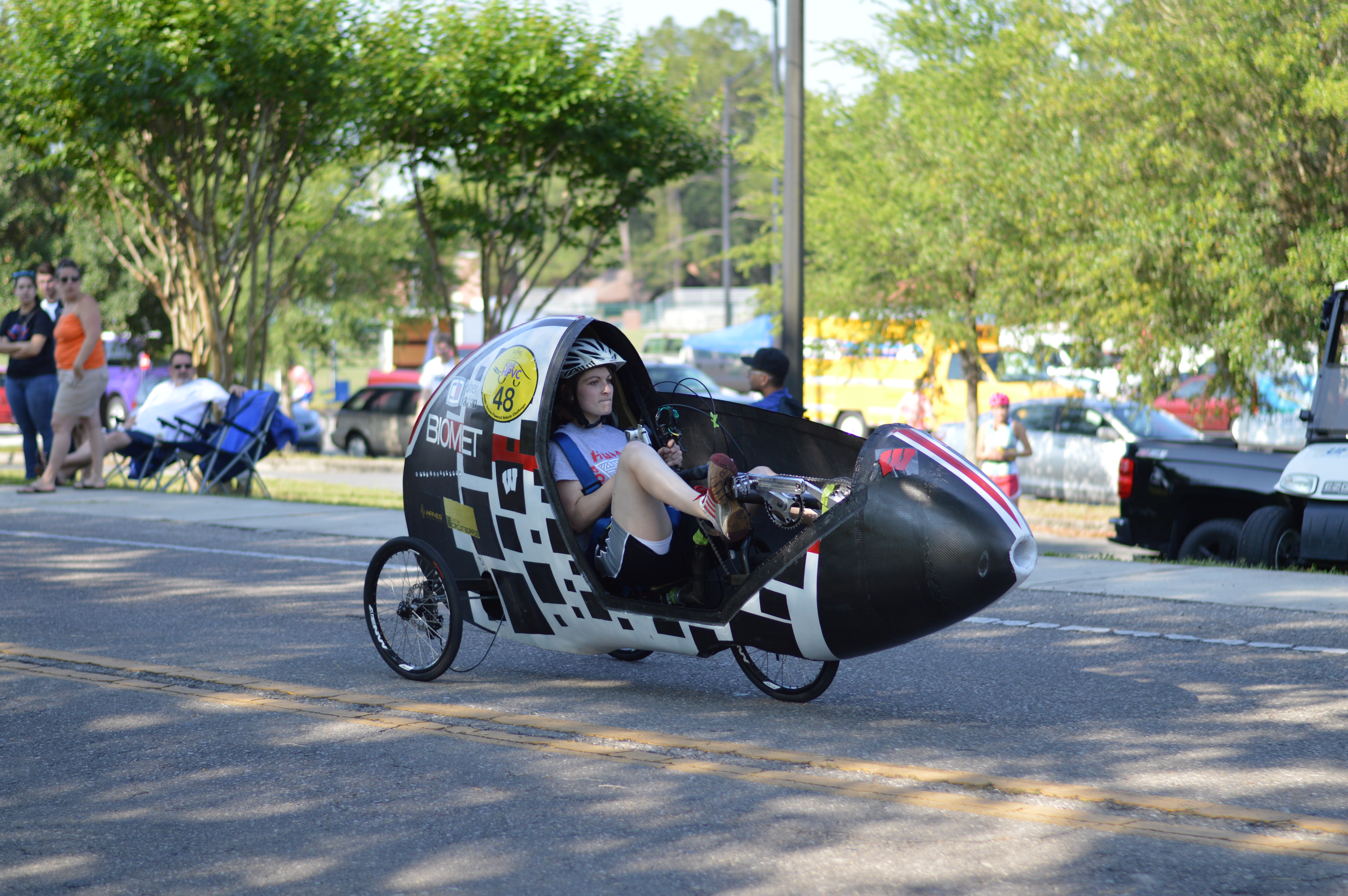 Carbon and steel frame

Full carbon fairing

Air ventilation system

Directional signals

Delta trike design

Front wheel drive
"Udder Domination" – HPVC East 2014
Perpetual Mootion – HPVC East 2013
In 2013 we took 11th place at the HPVC East competition with our vehicle, Perpetual Mootion. This was our first time engineering a full carbon-fiber fairing, and the second year with two wheels. With all that we've learned from dipping our hands into these more recent endeavors, we have a long list of improvements for this year which are guaranteed to make our next vehicle our fastest one yet.
Petpertual Mootion Features
Full carbon-fiber fairing, reinforced roll section

Steel frame

2-wheeled

Front-wheel drive

Telescoping landing gear
Extendable carbon-fiber boom
Full cabron-fiber seat
Perpetual Mootion Scores – Rankings
Design: 58.3/100 – 12/31
Innovation: 17.2/30 – 7/31
Women's Speed Event: 7.1/12.5 – 9/31
Men's Speed Event: 7.1/12 – 9/31
Endurance Event: 14.4 / 25 – 17/31
Overall: 57.55/100 – 11/31
The Riptide – HPVC East 2012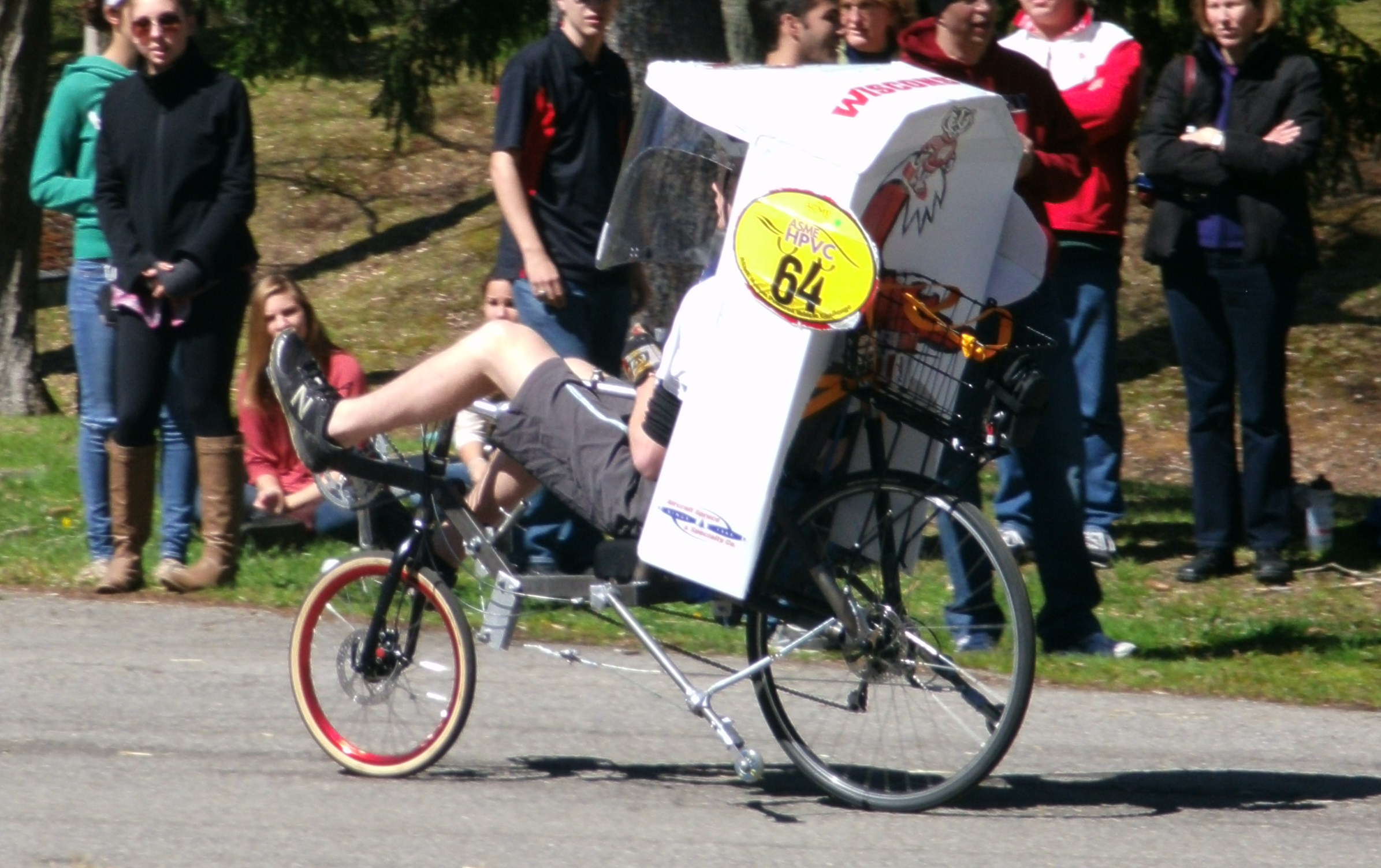 The Riptide Features
2-wheeled

Carbon-fiber seat back
Carbon-fiber rollbar
Landing gear
The Riptide Scores – Rankings
Design: 36.1/100 – 25/32
Innovation: 22/32
Women's Speed Event: 5.8/15 – 17/32
Men's Speed Event: 6.1/15 – 19/32
Endurance Event: 17.4/30 – 14/32
Overall: 43.7/100 – 17/32