Del – HPVC East 2015
In May of 2015 we took the competition by storm with our newest design, 'Del,' which was a name inspired by the design of our frame. This year we chose to go through with a leaning delta trike design.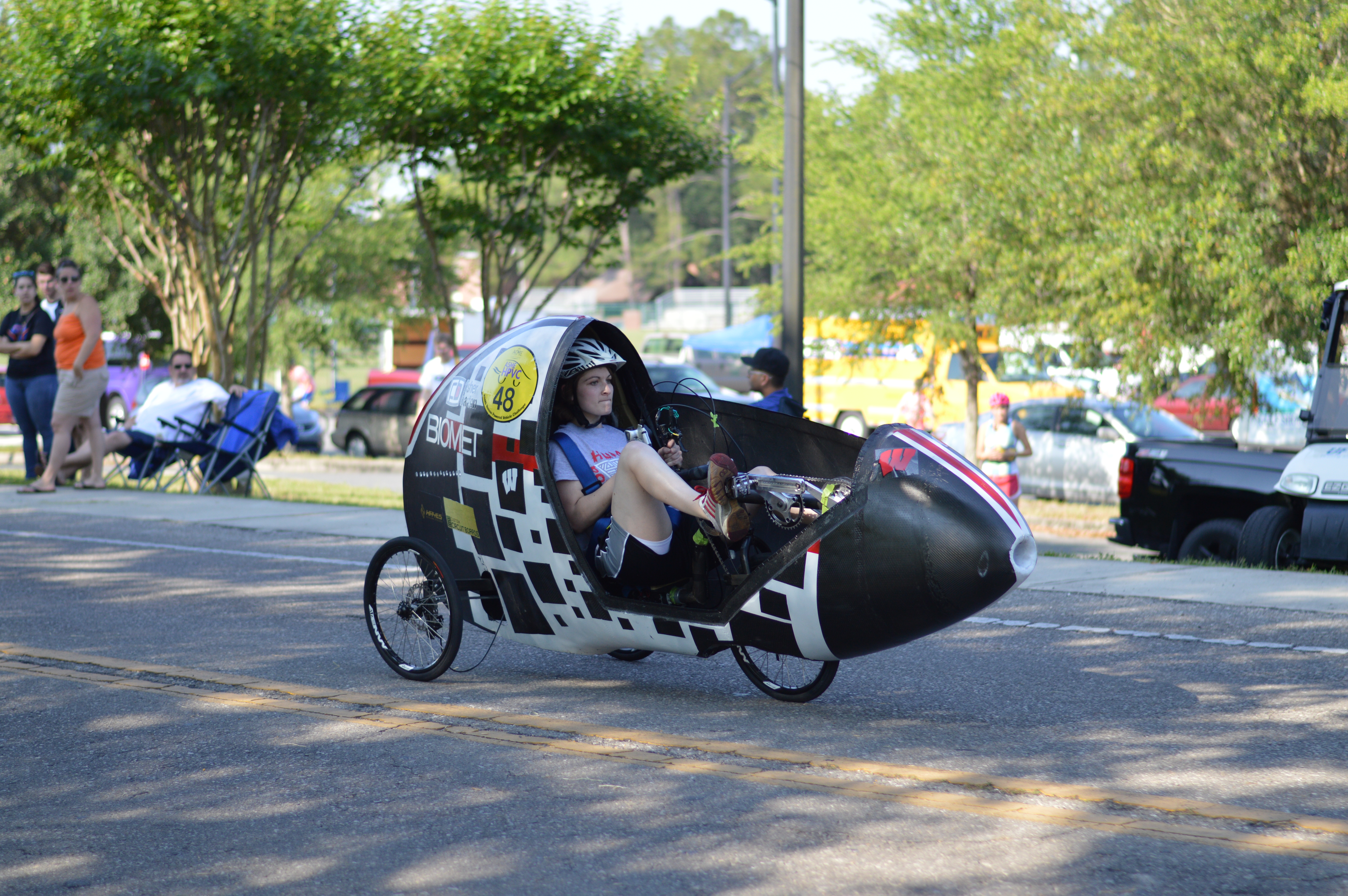 Carbon and steel frame

Full carbon fairing

Air ventilation system

Directional signals

Delta trike design

Front wheel drive
"Udder Domination" – HPVC East 2014
Perpetual Mootion – HPVC East 2013
In 2013 we took 11th place at the HPVC East competition with our vehicle, Perpetual Mootion. This was our first time engineering a full carbon-fiber fairing, and the second year with two wheels. With all that we've learned from dipping our hands into these more recent endeavors, we have a long list of improvements for this year which are guaranteed to make our next vehicle our fastest one yet.
Petpertual Mootion Features
Full carbon-fiber fairing, reinforced roll section

Steel frame

2-wheeled

Front-wheel drive

Telescoping landing gear
Extendable carbon-fiber boom
Full cabron-fiber seat
Perpetual Mootion Scores – Rankings
Design: 58.3/100 – 12/31
Innovation: 17.2/30 – 7/31
Women's Speed Event: 7.1/12.5 – 9/31
Men's Speed Event: 7.1/12 – 9/31
Endurance Event: 14.4 / 25 – 17/31
Overall: 57.55/100 – 11/31
The Riptide – HPVC East 2012
The Riptide Features
2-wheeled

Carbon-fiber seat back
Carbon-fiber rollbar
Landing gear
The Riptide Scores – Rankings
Design: 36.1/100 – 25/32
Innovation: 22/32
Women's Speed Event: 5.8/15 – 17/32
Men's Speed Event: 6.1/15 – 19/32
Endurance Event: 17.4/30 – 14/32
Overall: 43.7/100 – 17/32